Specialized programs
Camelid immunization
& VHH production
Eurogentec offers the largest range of products and services related to camelid antibodies and single domain antibodies.
Production process
We immunize Llama's or Alpaca's to provide blood samples containing both classical and heavy-chain only antibodies and offer VHH development and production.
The production process and Options are detailed below.
1.
Immunization
At Eurogentec, llama or alpaca immunizations are conducted using customized protocols and antigens to produce heavy chain only antibodies.
Serum samples are available for testing or for IgG's isolation.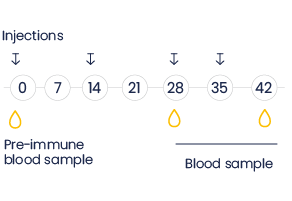 5 – 10 weeks*
Deliverables
The program can be stopped at this step and you receive unpurified pAb (blood or serum).
*Average time
2.
Lymphocytes isolation & mRNA extraction
Blood lymphocytes necessary for VHH production are poorly stable.
So we provide the service for lymphocyte isolation from a blood sample (+/- 250 mL) and the RNA extraction.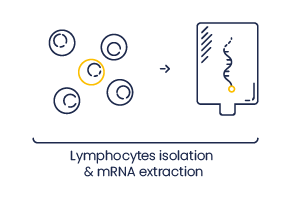 1 Day*
Deliverables
The program can be stopped at this step and you receive mRNA.
*Average time
3.
VHH screening & production
We generate VHH phage display libraries to screen for high affinity monoclonal VHH.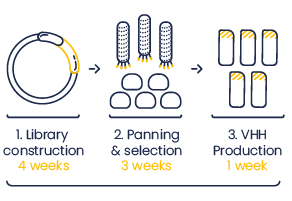 8 weeks*
Deliverables
Step 1 : Two libraries with size >107 different clones and > 90% insert.
Step 2 : The sequences of at least 6 binders from 2 families**.
Step 3 : 0.5 mg protein of the lead clones produced in E.coli and purified (>80%).


*Average time
** When the clone diversity allows
VHH antibody fragments
These are the smallest naturally occurring antibody binding domains presents many advantages and hence are considered as very promising candidates for novel therapy.
Anti-llama secondary antibodies
We provide labeled (biotin, R-PE or custom labeled) and unlabeled secondary antibodies to target llama IgG1 or IgG2/3 immunoglobulins with high precision and sensitivity.

We also offer a unique top-quality secondary antibody targeting VHH's. This rabbit polyclonal is broad VHH-specific, as it binds to and allows the detection of VHHs from different germline sequence families.
Confidentiality
We ensure that your project and your data will be handled under full confidentiality and will never be shared with external parties. Non-disclosure agreements can be executed.