You are here:

[Lys(Ac)5]-Histone H4 (1-21)-GGK(Biotin) - 1 mg
[Lys(Ac)5]-Histone H4 (1-21)-GGK(Biotin) - 1 mg
Cat.Number :

AS-64844-1

Manufacturer Ref. :
Availability :
This peptide is histone H4 amino acids 1 to 21, acetylated at Lys-5 and at the N-terminus. This peptide also contains a C-terminal GG linker, followed by a biotinylated lysine. The acetylation of histone H4 causes structural changes that play a crucial role in amplifying the binding of transcription factors to specific recognition sites within the nucleosome.
Specifications
Chemistry
Sequence one letter code

Ac-SGRG-K(Ac)-GGKGLGKGGAKRHRKV-GGK(Biotin)

Sequence three letter code

Ac-Ser-Gly-Arg-Gly-Lys(Ac)-Gly-Gly-Lys-Gly-Leu-Gly-Lys-Gly-Gly-Ala-Lys-Arg-His-Arg-Lys-Val-Gly-Gly-Lys(Biotin)-OH

Molecular Mass/ Weight
Modification
Conjugation type
Modification Name
Conjugation
Quantity & Purity
Purity
Storage & stability
Form
Storage Conditions
Activity
Biomarker Target
Research Area
Sub-category Research Area
Usage
Source
Source / Species
Codes
Code Nacres
You may also be interested in the following product(s)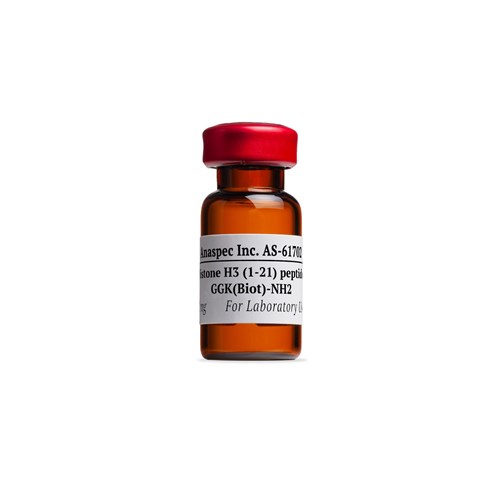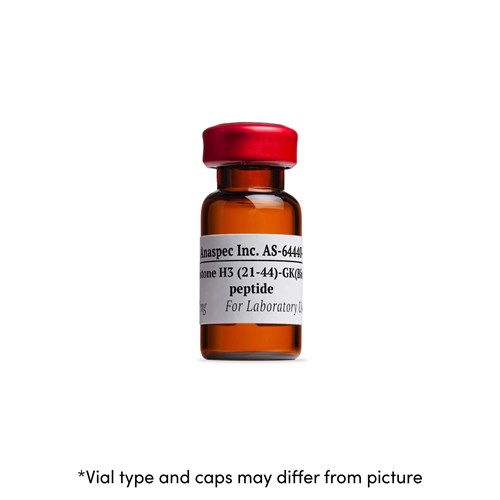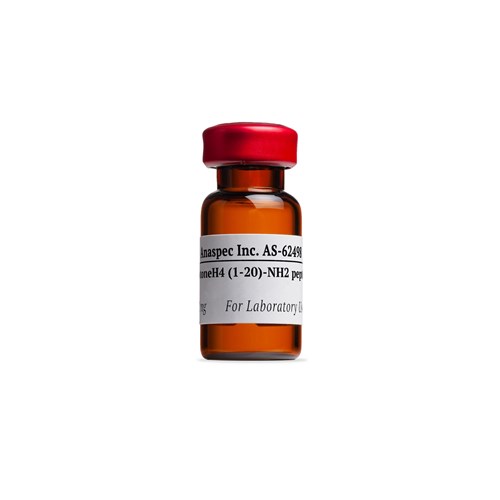 Citations
Selective recognition of H3.1K36 dimethylation/H4K16 acetylation facilitates the regulation of all-trans-retinoic acid (ATRA)-responsive genes by putative chromatin reader ZMYND8
J. Biol. Chem. . 2015 Dec 11 ; 291(6) 2664 | DOI : 10.1074/jbc.M115.679985
Binding of the histone chaperone ASF1 to the CBP bromodomain promotes histone acetylation.
PNAS . 2014 Mar 10 ; 111(12) E1072 | DOI : 10.1073/pnas.1319122111