You are here:

SensoLyte® 520 Renin Assay Kit Fluorimetric - 1...
SensoLyte® 520 Renin Assay Kit Fluorimetric - 1 kit
Cat.Number :

AS-72040

Manufacturer Ref. :
Availability :
Shipping conditions :

Ice delivery fees must be applied
Renin, a highly specific aspartyl protease, cleaves angiotensinogen, to yield angiotensin I, which is further converted into angiotensin II by ACE (Angiotensin Converting Enzyme). Angiotensin II constricts blood vessels leading to increased blood pressure. It also increases the secretion of ADH and aldosterone, and stimulates the hypothalamus to activate the thirst reflex. Since an overactive renin-angiotensin system leads to hypertension, renin is an attractive target for the treatment of this disease.
The SensoLyte® 520 Renin Assay Kit provides a convenient assay for high throughput screening of renin inhibitors and for continuous assay of renin activity using a 5-FAM/QXL™520 fluorescence resonance energy transfer (FRET) peptide. In the FRET peptide the fluorescence of 5-FAM is quenched by QXL™520. Upon cleavage into two separate fragments by renin, the fluorescence of 5-FAM is recovered, and can be monitored at excitation/emission = 490/520 nm. This assay is about fifty fold more sensitive than an EDANS/DABCYL-based assay and can detect 0.8 ng/ml renin.
Specifications
Packaging
Kits components

Component A: Renin substrate 5-FAM/QXL™520 FRET peptide Ex/Em=490 nm/520 nm upon cleavage: 1.5 mM DMSO solution, 50 µL Component B: 5-FAM, fluorescence reference standard: 1mM, 20 µL Component C: Human recombinant renin: 50 µL Component D: Assay buffer: 25 mL Component E: Renin Inhibitor Ac-HPFV- (Sta)-LF-NH2: 1mM DMSO solution, 4 µL

Chemistry
UniProt number
Properties
Absorbance (nm)
Emission (nm)
Storage & stability
Storage Conditions

Store component C at -80°C. Store all other components at -20°C. Component D can be stored at room temperature for convenience. Protect components A and B from light and moisture.

Activity
Application
Biomarker Target
Detection Method
Detection Limit
Research Area
Sub-category Research Area
Usage
Source
Host
Codes
Code Nacres
You may also be interested in the following product(s)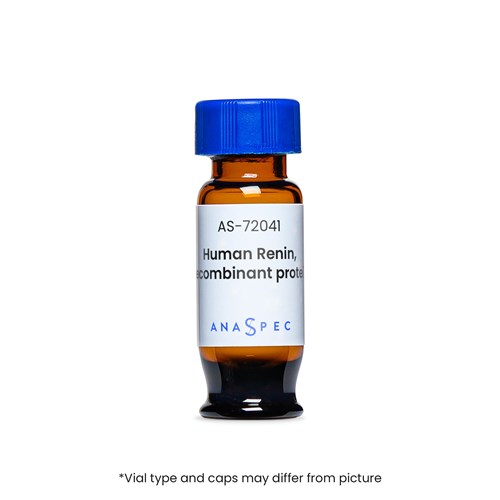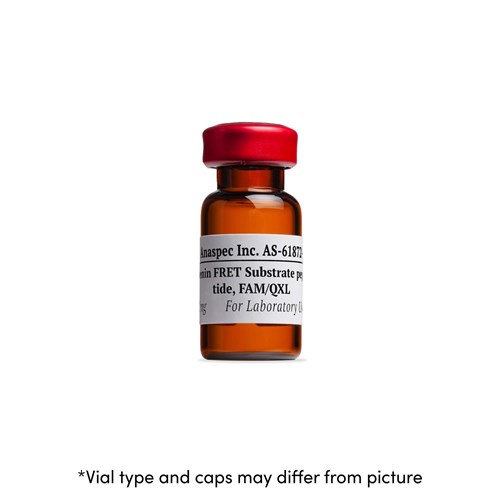 Citations
Bilateral renal ischemia as a model of acute kidney injury in cats
Res Vet Sci. . 2012 Jan 04 ; 93(2) 950 | DOI : 10.1016/j.rvsc.2011.12.004
Antihypertensive Effects of Continuous Oral Administration of Nattokinase and Its Fragments in Spontaneously Hypertensive Rats
Biol Pharm Bull . 2011 Jan 01 ; 34(11) 1696 | DOI : 10.1248/bpb.34.1696
Robust central reduction of amyloid-β in humans with an orally available, non-peptidic β-secretase inhibitor
J Neurosci. . 2011 Nov 16 ; 31(46) 16507 | DOI : 10.1523/JNEUROSCI.3647-11.2011
IQGAP1 regulates ERK1/2 and AKT signaling in the heart and sustains functional remodeling upon pressure overload
Cardiovasc Res . 2011 Apr 14 ; 91(3) 456 | DOI : 10.1093/cvr/cvr103
High glucose upregulates upstream stimulatory factor 2 in human renal proximal tubular cells through angiotensin II-dependent activation of CREB
Nephron Exp Nephrol. . 2010 Sep 01 ; 117(3) e62 | DOI : 10.1159/000320593
The (pro)renin receptor is cleaved by ADAM19 in the Golgi leading to its secretion into extracellular space.
Hypertens Res. . 2011 May 01 ; 34(5) 599 | DOI : 10.1038/hr.2010.284
Mechanism of VEGF expression by high glucose in proximal tubule epithelial cells
Mol Cell Endocrinol. . 2009 Sep 16 ; 314(1) 136 | DOI : 10.1016/j.mce.2009.09.009
Direct renin inhibition improved insulin resistance and adipose tissue dysfunction in type 2 diabetic KK-A(y) mice.
J Hypertens . 2010 Jul 01 ; 28(7) 1471 | DOI : 10.1097/HJH.0b013e32833bc420
Effects of renal autograft ischemic storage and reperfusion on intraoperative hemodynamic patterns and plasma renin concentrations in clinically normal cats undergoing renal autotransplantation and contralateral nephrectomy
Am J Vet Res. . 2010 Oct 01 ; 71(10) 1220 | DOI : 10.2460/ajvr.71.10.1220
Expression of protein complex comprising the human prorenin and (pro)renin receptor in silkworm larvae using Bombyx mori nucleopolyhedrovirus (BmNPV) bacmids for improving biological function.
Mol Biotechnol . 2009 Jun 07 ; 43(2) 154 | DOI : 10.1007/s12033-009-9183-7
Measurement of plasma renin concentration in cats by use of a fluorescence resonance energy transfer peptide substrate of renin
Am J Vet Res. . 2009 Nov 01 ; 70(11) 1315 | DOI : 10.2460/ajvr.70.11.1315
Dominant renin gene mutations associated with early-onset hyperuricemia, anemia, and chronic kidney failure
Am J Hum Genet. . 2009 Aug 06 ; 85(2) 204 | DOI : 10.1016/j.ajhg.2009.07.010
Synthesis of dammarane-type triterpene derivatives and their ability to inhibit HIV and HCV proteases
Bioorg Med Chem . 2009 Mar 14 ; 17(8) 3003 | DOI : 10.1016/j.bmc.2009.03.019