You are here:

Indolicidin - 1 mg
Indolicidin - 1 mg
Cat.Number :

AS-60999

Manufacturer Ref. :
Availability :
Indolicidin, a member of the cathelicidin protein family, is a 13-residue cationic, antimicrobial peptide-amide isolated from the cytoplasmic granules of bovine neutrophils. Indolicidin is microbicidal in-vitro against gram-positive and gram-negative bacteria, fungi, protozoa, and human immunodeficiency virus (HIV-1).
Specifications
Chemistry
Sequence one letter code
Sequence three letter code

H-Ile-Leu-Pro-Trp-Lys-Trp-Pro-Trp-Trp-Pro-Trp-Arg-Arg-NH2

CAS registry number
Molecular Formula
Molecular Mass/ Weight
Modification
Conjugation
Quantity & Purity
Purity
Storage & stability
Form
Storage Conditions
Activity
Biomarker Target
Research Area
Sub-category Research Area
Usage
Source
Source / Species
Codes
Code Nacres
You may also be interested in the following product(s)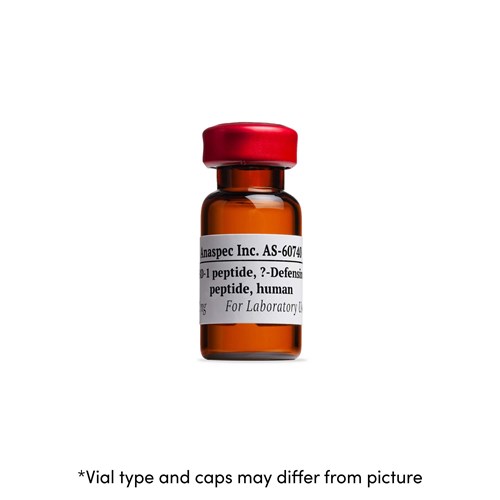 Citations
Screening Antimicrobial Peptides In Vitro for Use in Developing Transgenic Citrus Resistant to Huanglongbing and Citrus Canker
Ameri Soci Horticul Sci . 2013 Mar 01 ; 138(2) 142 | DOI : https://doi.org/10.21273/JASHS.138.2.142
Combination effects of antimicrobial peptides
Antimicrob Agents Chemother . 2016 Jan 04 ; 60(3) 1717 | DOI : 10.1128/AAC02434-15.
Acyl carrier protein is a bacterial cytoplasmic target of cationic antimicrobial peptide LL-37
Biochem J . 2015 Jul 17 ; 470(2) 243 | DOI : 10.1042/BJ20150432.
Antimicrobial peptide inhibition of Porphyromonas gingivalis 381-induced hemagglutination is improved with a synthetic decapeptide.
Peptides . 2009 Aug 08 ; 30(12) 2161 | DOI : 10.1016/j.peptides.2009.07.027.