You are here:

LC-LL-37, biotinylated - 0.5 mg
LC-LL-37, biotinylated - 0.5 mg
Cat.Number :

AS-63693

Manufacturer Ref. :
Availability :
Antimicrobial peptide LL-37, belonging to the cathelicidin family, is the first amphipathic alpha-helical peptide isolated from human. It plays an important role in the first line of defense (innate immunity) against local infection and systemic invasion of pathogens at sites of inflammation and wounds. This peptide is biotinylated.
Specifications
Chemistry
Sequence one letter code

Biotin-LC-LLGDFFRKSKEKIGKEFKRIVQRIKDFLRNLVPRTES

Sequence three letter code

Biotin-LC-Leu-Leu-Gly-Asp-Phe-Phe-Arg-Lys-Ser-Lys-Glu-Lys-Ile-Gly-Lys-Glu-Phe-Lys-Arg-Ile-Val-Gln-Arg-Ile-Lys-Asp-Phe-Leu-Arg-Asn-Leu-Val-Pro-Arg-Thr-Glu-Ser-OH

Molecular Mass/ Weight
Modification
Conjugation type
Modification Name
Conjugation
Quantity & Purity
Purity
Storage & stability
Form
Storage Conditions
Activity
Biomarker Target
Research Area
Sub-category Research Area
Usage
Source
Source / Species
Codes
Code Nacres
You may also be interested in the following product(s)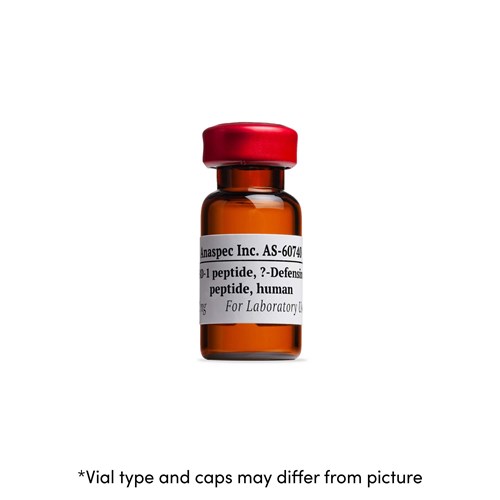 Citations
Acyl carrier protein is a bacterial cytoplasmic target of cationic antimicrobial peptide LL-37
Biochem J . 2015 Jul 17 ; 470(2) 243 | DOI : 10.1042/BJ20150432.
Chlamydial plasmid-encoded virulence factor Pgp3 neutralizes the antichlamydial activity of human cathelicidin LL-37
Infect Immun . 2015 Sep 28 ; 83(12) 4701 | DOI : 10.1128/IAI.00746-15