You are here:

[Lys(Ac)23]-Histone H3 (21-44)-GK(Biotin) - 1 mg
[Lys(Ac)23]-Histone H3 (21-44)-GK(Biotin) - 1 mg
Cat.Number :

AS-65241-1

Manufacturer Ref. :
Availability :
This peptide is histone H3 (21-43) acetylated at Lys23 with a C-terminal GG linker followed by a biotinylated Lys. Acetylation of histone H3 occurs at Lys14 or Lys23 without preference. Lysine acetylation in histone H3 is associated with transcriptional activation. Provided at >95% peptide purity, this peptide was dissolved in distilled water at 1 mg/ml and re-lyophilized to powder form.
Specifications
Chemistry
Sequence one letter code

AT-K(Ac)-AARKSAPATGGVKKPHRYRPG-GK(Biotin)

Sequence three letter code

H-Ala-Thr-Lys(Ac)-Ala-Ala-Arg-Lys-Ser-Ala-Pro-Ala-Thr-Gly-Gly-Val-Lys-Lys-Pro-His-Arg-Tyr-Arg-Pro-Gly-Gly-Lys(Biotin)-OH

Molecular Mass/ Weight
Modification
Conjugation type
Modification Name
Conjugation
Quantity & Purity
Purity
Storage & stability
Form
Storage Conditions
Activity
Biomarker Target
Research Area
Sub-category Research Area
Usage
Source
Source / Species
Codes
Code Nacres
You may also be interested in the following product(s)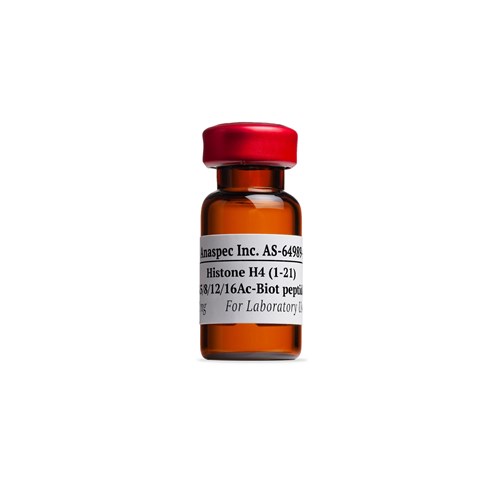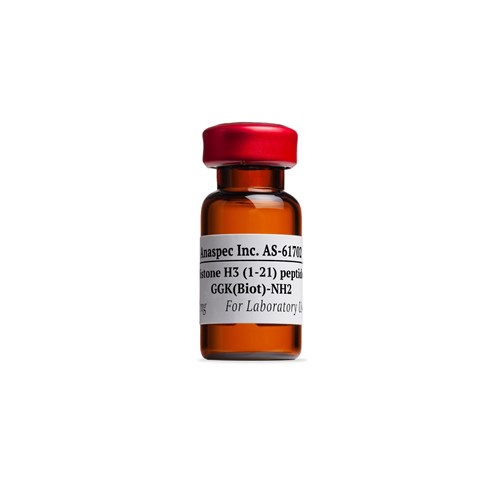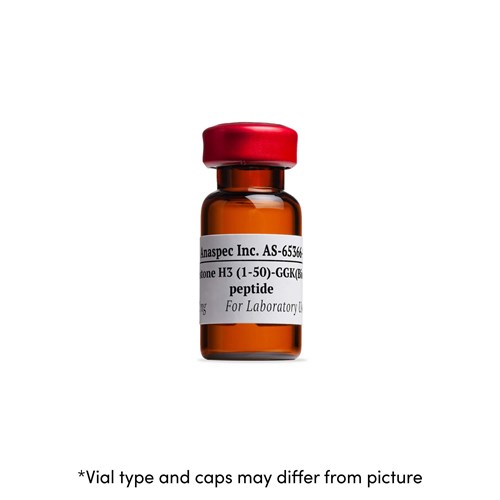 Citations
Binding of the histone chaperone ASF1 to the CBP bromodomain promotes histone acetylation.
PNAS . 2014 Mar 10 ; 111(12) E1072 | DOI : 10.1073/pnas.1319122111