You are here:

[Lys(Me3)4]-Histone H3 (1-21)-GGK(Biotin)-NH2 -...
[Lys(Me3)4]-Histone H3 (1-21)-GGK(Biotin)-NH2 - 1 mg
Cat.Number :

AS-64192

Manufacturer Ref. :
Availability :
This peptide is a synthetic peptide corresponding to amino acids 1-21 of human histone H3. It is trimethylated at lysine-4 with a C-terminal Gly-Gly linker followed by a biotinylated Lys. The trimethylation of histone H3 at lysine 4 [H3K4(Me3)] shows cell state and lineage potential by differentiating genes that are expressed, poised for expression, or repressed. H3K4(Me3) also labels imprinting control regions.
Specifications
Chemistry
Sequence one letter code

ART-K(Me3)-QTARKSTGGKAPRKQLA-GGK(Biotin)-NH2

Sequence three letter code

H-Ala-Arg-Thr-Lys(Me3)-Gln-Thr-Ala-Arg-Lys-Ser-Thr-Gly-Gly-Lys-Ala-Pro-Arg-Lys-Gln-Leu-Ala-Gly-Gly-Lys(Biotin)-NH2

Molecular Mass/ Weight
Modification
Conjugation type
Modification Name
Conjugation
Quantity & Purity
Purity
Storage & stability
Form
Storage Conditions
Activity
Biomarker Target
Research Area
Sub-category Research Area
Usage
Source
Source / Species
Codes
Code Nacres
You may also be interested in the following product(s)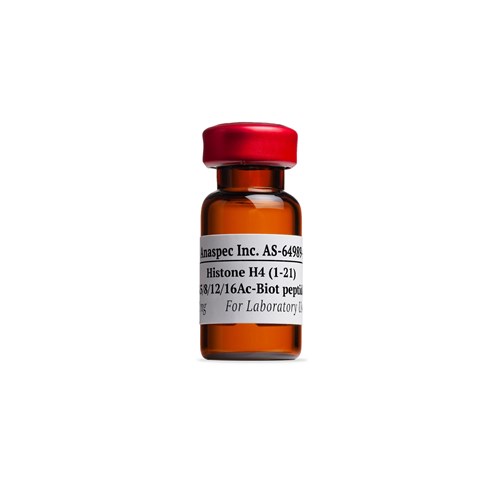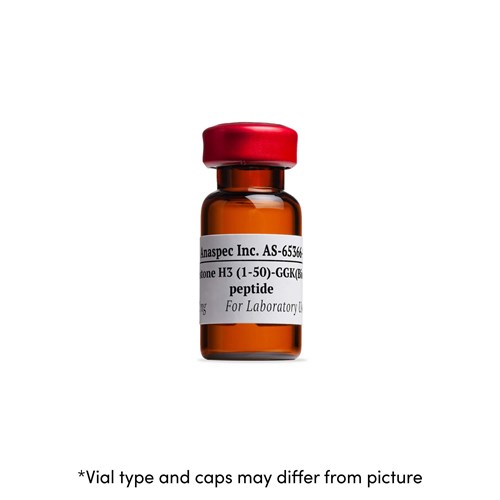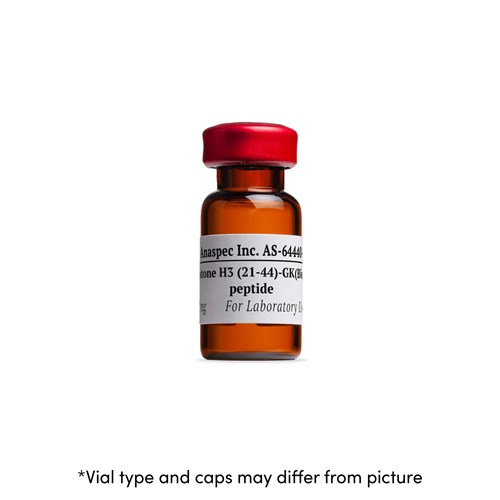 Citations
MeCP2 binds to nucleosome free (linker DNA) regions and to H3K9/H327 methylated nucleosomes in brain.
Nucl Acids Res . 2011 Dec 05 ; 40(7) 2884 | DOI : 10.1093/nar/gkr1066.