You are here:

SensoLyte® 490 MMP-2 Assay Kit Fluorimetric - 1...
SensoLyte® 490 MMP-2 Assay Kit Fluorimetric - 1 kit
Cat.Number :

AS-71129

Manufacturer Ref. :
Availability :
Shipping conditions :

Ice delivery fees must be applied
Matrix metalloproteinases (MMPs) belong to a family of secreted or membrane-associated proteins capable of digesting extracellular matrix components. The importance of MMPs in tumor development and invasion is well known. MMP-2 (gelatinase A) is proposed as a potential therapeutic target.
The SensoLyte® 490 MMP-2 Assay Kit is a complete assay system designed to continuously analyze MMP activities or to screen MMP-2 inhibitors by using a fluorogenic MMP-2 substrate.
Members of the MMP family have poor substrate sequence specificity, making it difficult to use a peptide substrate alone to differentiate the activity of a particular MMP from other MMPs. If several MMPs are coexisting in your samples and you would like to specifically measure MMP-2 activity, please choose the SensoLyte® Plus MMP-2 Assay Kit, Cat# AS-72224.
Specifications
Packaging
Kits components

Component A: MMP-2 substrate EDANS/DABCYL FRET peptide Ex/Em=340 nm/490 nm upon cleavage: 270 µL Component B: EDANS, fluorescence reference standard Ex/Em=340 nm/490 nm: 1 mM DMSO solution, 10 µL Component C: APMA, 4-aminophenylmercuric acetate (Caution: Contains organic mercury and must be handled with care. Dispose according to local regulations): 1 M, 100 µL Component D: Assay buffer: 60 mL Component E: Stop solution: 30 mL

Chemistry
UniProt number
Properties
Absorbance (nm)
Emission (nm)
Storage & stability
Storage Conditions

Store all components at -20°C. Protect components A and B from light. Components D and E can be stored at 4 °C for convenience.

Activity
Application
Biomarker Target
Detection Method
Research Area
Sub-category Research Area
Usage
Codes
Code Nacres
You may also be interested in the following product(s)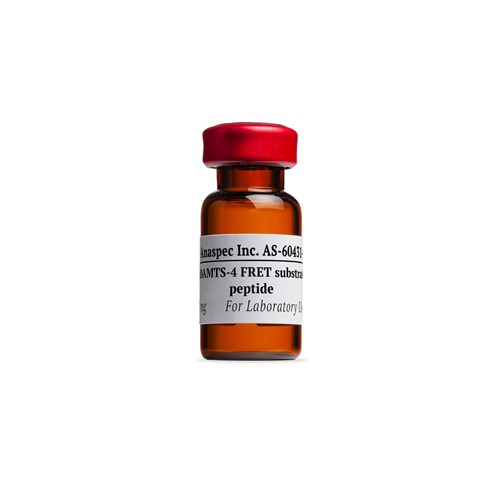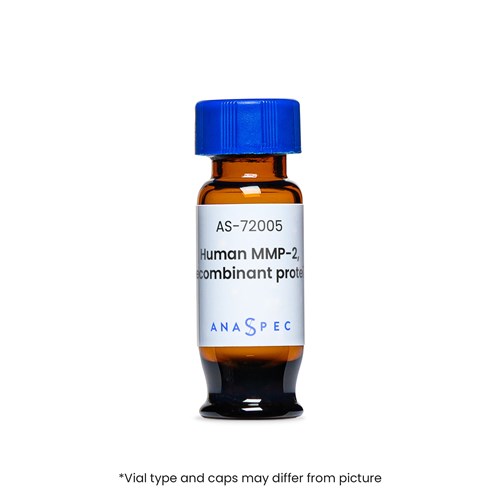 Citations
The inhibitory effects of silver diamine fluoride at different concentrations on matrix metalloproteinases
Dent Mater. . 2012 May 12 ; 28(8) 903 | DOI : 10.1016/j.dental.2012.04.011
Structure-function studies on inhibitory activity of Bungarus multicinctus protease inhibitor-like protein on matrix metalloprotease-2, and invasion and migration of human neuroblastoma SK-N-SH cells.
Toxicon. . 2009 Aug 23 ; 55(2-3) 353 | DOI : 10.1016/j.toxicon.2009.08.012
ERK1/2 activation induced by inflammatory cytokines compromises effective host tissue integration of engineered cartilage
Tissue Eng Part A . 2008 Jan 01 ; 15(10) 2825 | DOI : 10.1089/ten.TEA.2008.0663
Chlorotyrosine promotes human aortic smooth muscle cell migration through increasing superoxide anion production and ERK1/2 activation
Atherosclerosis. . 2008 Feb 20 ; 201(1) 37 | DOI : 10.1016/j.atherosclerosis.2007.12.049