You are here:

SensoLyte® 520 ß-Secretase (BACE1) Activity Ass...
SensoLyte® 520 ß-Secretase (BACE1) Activity Assay Kit Fluorimetric - 1 kit
Cat.Number :

AS-71144

Manufacturer Ref. :
Availability :
Shipping conditions :

Ice delivery fees must be applied
β-Secretase (BACE1) is a membrane-anchored aspartic protease existing in acidic subcellular vesicles. It is a key player in producing β-amyloid peptides through proteolytic cleavage of the β-amyloid precursor protein (APP). Accumulation of neurotoxic β-amyloid peptide is seen in senile plaques in the brains of patients with Alzheimer's disease (AD), an age-related cognitive disorder. Therefore, targeting β-secretase is considered a potential therapeutic strategy for the prevention and treatment of AD.
The SensoLyte® 520 β-Secretase Assay Kit is a homogeneous assay that can be used to detect the activity of enzyme and for screening of secretase inhibitors. It contains a QXL® 520/ HiLyte™ Fluor 488 FRET substrate. The sequence of this FRET peptide is derived from the β-secretase cleavage site on the Swedish APP mutation. This mutation causes the enhancement of β-secretase to process APP, resulting in an early onset of AD. Active β-secretase cleaves FRET substrate into two separate fragments resulting in the release of HiLyte™ Fluor 488 fluorescence that can be monitored at excitation/emission= 490/520 nm. The long wavelength fluorescence of HiLyte™ Fluor 488 is less interfered by the autofluorescence of components in biological samples and test compounds.
Specifications
Packaging
Kits components

Component A: HiLyte™ Fluor 488/QXL™-520 BACE1 substrate, Ex/Em=490/520 nm upon cleavage: 60µL Component B: HiLyte™ Fluor 488, fluorescence reference standard 1 mM DMSO solution: 20 µL Component C: BACE1 Inhibitor 250 µM: 10 µL Component D: 2X Assay buffer: 20 mL Component E: Stop Solution: 10 mL Component F: Human BACE1 enzyme: 20 µL

Chemistry
UniProt number
Properties
Absorbance (nm)
Emission (nm)
Storage & stability
Storage Conditions

Store component F at -80°C. Store all other components at -20°C. Component D and E can be stored at room temperature for convenience. Protect components A and B from light and moisture.

Activity
Application
Biomarker Target
Detection Method
Research Area
Sub-category Research Area
Usage
Source
Host
Codes
Code Nacres
You may also be interested in the following product(s)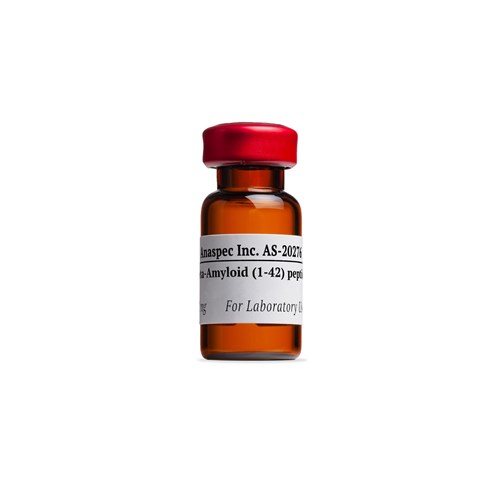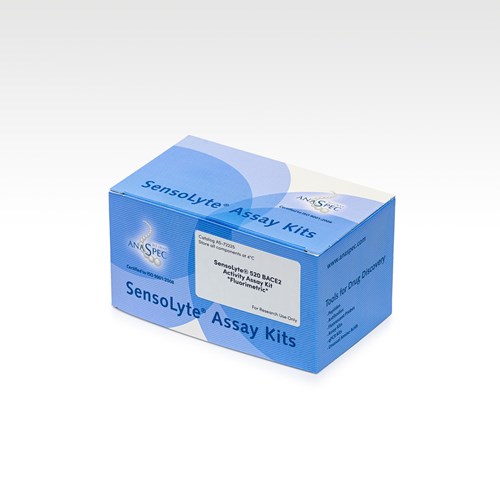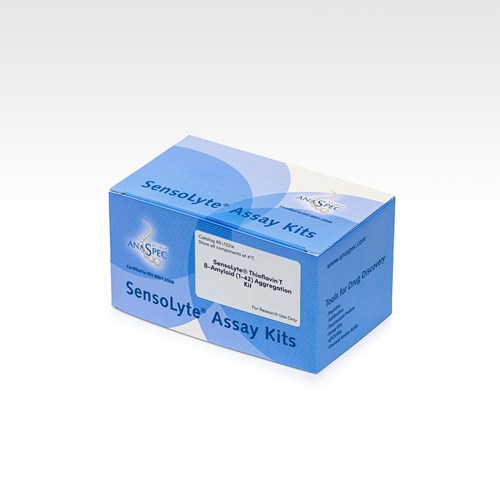 Citations
Inhibiting β-secretase activity in Alzheimer's disease cell models with single-chain antibodies specifically targeting APP
J Mol Biol . 2011 Jan 14 ; 405 436 | DOI : 10.1016/j.jmb.2010.10.054
Promotion of BACE1 mRNA alternative splicing reduces amyloid β-peptide production
J Biol Chem . 2008 Jul 04 ; 283 18694 | DOI : 10.1074/jbc.M801322200