You are here:

SensoLyte® 520 MMP-1 Assay Kit Fluorimetric - 1...
SensoLyte® 520 MMP-1 Assay Kit Fluorimetric - 1 kit
Cat.Number :

AS-71150

Manufacturer Ref. :
Availability :
Shipping conditions :

Ice delivery fees must be applied
MMP-1 (interstitial collagenase, fibroblast collagenase) is an extracellular protease. This enzyme plays a significant role in cancer, arthritis and other diseases, and has been identified as a drug-screening target.
SensoLyte® 520 MMP-1 Assay Kit uses a 5-FAM (fluorophore) and QXL520™ (quencher) labeled FRET peptide substrate for continuous measurement of enzyme activity. In an intact FRET peptide, the fluorescence of 5-FAM is quenched by QXL520™. Upon the cleavage of the FRET peptide by MMP-1, the fluorescence of 5-FAM is recovered, and can be continuously monitored at excitation/emission = 490 nm/520 nm. With superior fluorescence quantum yield and longer emission wavelength, 5-FAM/QXL520™ based FRET peptide has less interference from the autofluorescence of test compounds and cellular components and provides better assay sensitivity. The assays are performed in a convenient 96-well or 384-well microplate format.
Members of the MMP family have poor substrate sequence specificity, making it difficult to use a peptide substrate alone to differentiate the activity of a particular MMP from other MMPs. If several MMPs are coexisting in your samples and you would like to specifically measure MMP-1 activity, please choose the SensoLyte® Plus MMP-1 Assay Kit, Cat# AS-72012.
Specifications
Packaging
Kits components

Component A: MMP-1 substrate Ex/Em=490 nm/520 nm upon cleavage: 60 µL Component B: 5-FAM-Pro-Leu-OH, fluorescence reference standard Ex/Em=490 nm/520 nm: 1 mM, 10 µL Component C: APMA, 4-aminophenylmercuric acetate (Caution: Organic mercury. Handle with care! Do not dispose into sink!): 1 M, 20 µL Component D: Assay buffer: 20 mL Component E: Stop solution: 10 mL

Chemistry
UniProt number
Properties
Absorbance (nm)
Emission (nm)
Storage & stability
Storage Conditions

Store all components at -20°C. Protect components A and B from light. Components D and E can be stored at 4 °C for convenience.

Activity
Application
Biomarker Target
Detection Method
Detection Limit
Research Area
Sub-category Research Area
Usage
Codes
Code Nacres
You may also be interested in the following product(s)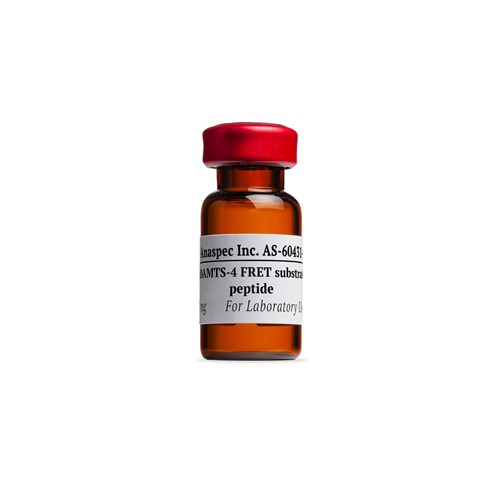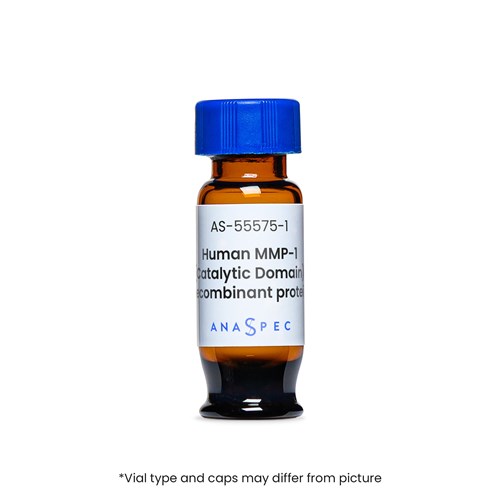 Citations
Matrix metalloproteinase (MMP)-1 induces lung alveolar epithelial cell migration and proliferation, protects from apoptosis, and represses mitochondrial oxygen consumption
J Biol Chem . 2013 Jul 31 ; 288(36) 25964 | DOI : 10.1074/jbc.M113.459784
Matrix metalloproteinase-1 induces cleavage of exogenous alphaB-crystallin transduced by a cell-penetrating peptide
J Cell Biochem . 2011 Sep 01 ; 112(9) 2454 | DOI : 10.1002/jcb.23167
Liver regeneration associated protein (ALR) exhibits antimetastatic potential in hepatocellular carcinoma
Mol Med . 2010 Dec 08 ; 17(3-4) 221 | DOI : 10.2119/molmed.2010.00117
Development of a gene therapy virus with a glucocorticoid-inducible MMP1 for the treatment of steroid glaucoma
Invest Ophthalmol Vis Sci . 2020 Jan 20 ; 51(6) 3029 | DOI : 10.1167/iovs.09-4918
Inhibition of ceramide–redox signaling pathway blocks glomerular injury in hyperhomocysteinemic rats
Kidney Int. . 2006 May 10 ; 70(1) 88 | DOI : 10.1038/sj.ki.5001517