You are here:

SensoLyte® AFC Thrombin Activity Assay Kit Fluo...
SensoLyte® AFC Thrombin Activity Assay Kit Fluorimetric - 1 kit
Cat.Number :

AS-72130

Manufacturer Ref. :
Availability :
Shipping conditions :

Ice delivery fees must be applied
Thrombin, a serine protease, plays a central role in hemostasis by converting soluble plasma fibrinogen into an insoluble fibrin clot and by promoting platelet aggregation. Thrombin also influences a number of normal and pathological processes, including inflammation, tissue repair, embryogenesis, angiogenesis, and tumor invasion.
The SensoLyte® AFC Thrombin Assay Kit is optimized for screening of enzyme inhibitors. This kit contains a fluorogenic substrate which shows high reactivity and low background. Thrombin cleaves the substrate resulting in the release of the AFC (7-amido-4-trifluoromethylcoumarin) fluorophore. Fluorescence can be monitored at excitation/emission= 380 nm/500 nm. The assays are performed in a convenient 96-well or 384-well microplate format.
Specifications
Packaging
Kits components

Component A: AFC Thrombin substrate, Ex/Em=380 nm/500 nm: 5 mM, 50 µL Component B: AFC, Fluorescence reference standard, Ex/Em=380 nm/500 nm: 5 mM, 10 µL Component C: 2X Assay buffer: 20 mL Component D: Purified human thrombin enzyme: 0.01 mg/mL, 40 µL Component E: Thrombin inhibito:r 10 mM, 10 µL Component F: Stop solution: 5 mL

Chemistry
UniProt number
Properties
Absorbance (nm)
Emission (nm)
Storage & stability
Storage Conditions

Store all kit components, except Component D, at -20°C. Store Component D at -80°C. Aliquot as needed to avoid multiple freeze-thaw cycles. Protect Components A and B from light and moisture. Components C and F can be stored at room temperature for convenience.

Activity
Application
Biomarker Target
Detection Method
Research Area
Sub-category Research Area
Usage
Codes
Code Nacres
You may also be interested in the following product(s)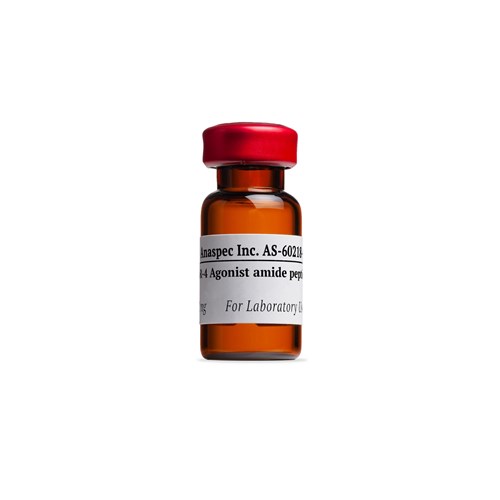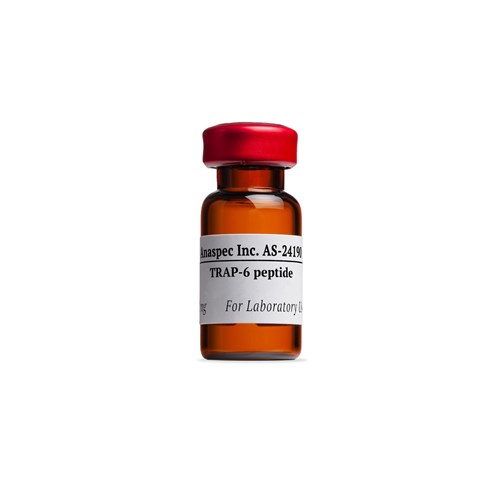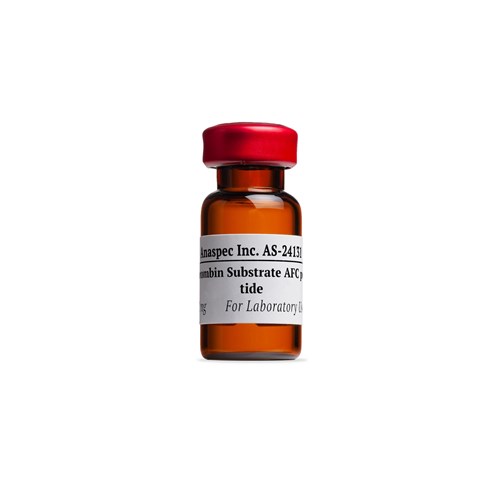 Citations
Reactive Center Loop (RCL) Peptides Derived from Serpins Display Independent Coagulation and Immune Modulating Activities.
J Biol Chem . 2015 Nov 30 ; 291(6) 2874 | DOI : 10.1074/jbc.M115.704841
Interactions of some commonly used drugs with Human α-thrombin
J Biomol Struct Dyn . 2014 Jun 19 ; 33(5) 1008 | DOI : 10.1080/07391102.2014.923329
Process-scale purification and analytical characterization of highly gamma-carboxylated recombinant human prothrombin
J Chromatogr A . 2013 Dec 15 ; 1325 171 | DOI : 10.1016/j.chroma.2013.12.024
Interleukin-1 promotes coagulation, which Is necessary for protective immunity in the lung against Streptococcus pneumoniae infection
J Infect Dis . 2013 Jan 01 ; 207(1) 50 | DOI : 10.1093/infdis/jis651
Intravenous and oral administrations of DD2 [7-Amino-2-
Thromb Res . 2012 Jul 12 ; 130(4) e222 | DOI : 10.1016/j.thromres.2012.06.018
Novel agmatine and agmatine-like peptidomimetic inhibitors of the West Nile Virus NS2B/NS3 serine protease
Eur J Med Chem . 2011 Apr 28 ; 46(7) 3130 | DOI : 10.1016/j.ejmech.2011.04.055