You are here:

SensoLyte® Plus 520 MMP-1 Assay Kit Fluorimetri...
SensoLyte® Plus 520 MMP-1 Assay Kit Fluorimetric and Enhanced Selectivity - 1 kit
Cat.Number :

AS-72012

Manufacturer Ref. :
Availability :
Shipping conditions :

Ice delivery fees must be applied
The SensoLyte® Plus 520 MMP-1 Assay Kit is designed for specifically detecting MMP-1 activity in biological samples which may contain multiple MMPs, such as culture medium, serum, plasma, synovial fluid, and tissue homogenate. A specific anti-MMP-1 monoclonal antibody is used in combination with an MMP fluorogenic substrate, 5-FAM/QXL™520 FRET peptide. The fluorescence signal is monitored at Ex/Em=490 nm/520 nm upon MMP-1-induced cleavage of the FRET substrate.
Specifications
Packaging
Kits components

Component A: Microplate coated with monoclonal anti human MMP-1 antibody: 12 X 8 black strips Component B: MMP-1 standard, recombinant human proMMP-1: 10 µg/mL, 10 µL Component C: MMP dilution buffer: 10 mL Component D: 10 X Wash buffer: 50 mL Component E: APMA, 4-aminophenylmercuric acetate (Caution: Contains organic mercury. Dispose according to regulations): 100 mM, 150 µL Component F: MMP-1 substrate 5-FAM/QXL™520 FRET peptide Ex/Em=490 nm/520 nm upon cleavage: 50 µL Component G: Assay buffer: 50 mL Component H: Stop Solution: 10 mL Component I: Adhesive cover strip: 3 sheets

Chemistry
UniProt number
Properties
Absorbance (nm)
Emission (nm)
Storage & stability
Storage Conditions

Store component B at -80 °C. Store all other components at -20 °C. Components D, G, H and I can be stored at room temperature for convenience.

Activity
Application
Biomarker Target
Detection Method
Detection Limit
Research Area
Sub-category Research Area
Usage
Codes
Code Nacres
You may also be interested in the following product(s)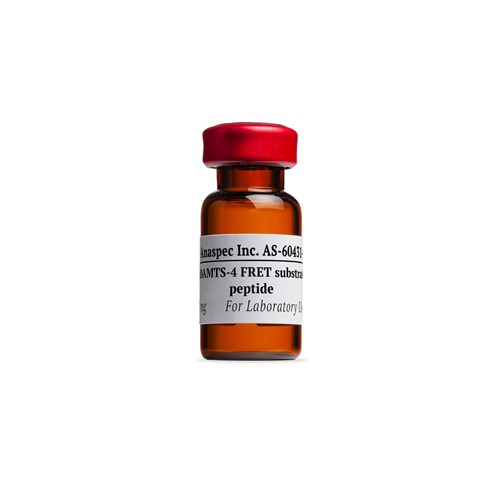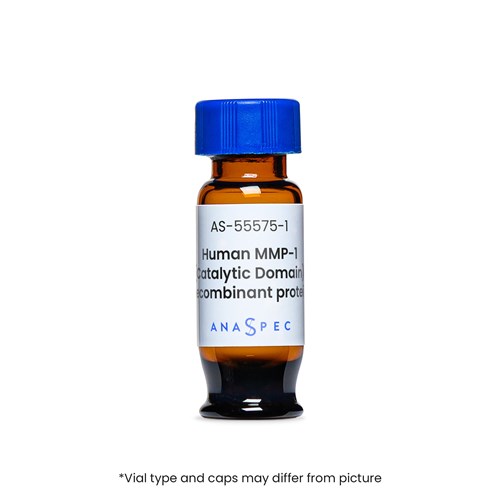 Citations
Pentraxin 3 induces vascular endothelial dysfunction through a P-selectin/Matrix Metalloproteinase-1 pathway
Circulation . 2015 Mar 06 ; 131 1495 | DOI : 10.1161/CIRCULATIONAHA.114.014822
Oncogenic KIT-containing exosomes increase gastrointestinal stromal tumor cell invasion
Proc Natl Acad Sci USA . 2013 Dec 30 ; 111 711 | DOI : 10.1073/pnas.1310501111
Increased levels of CCR7 ligands in carotid atherosclerosis: different effects in macrophages and smooth muscle cells
Cardiovasc Res . 2014 Feb 11 ; 102 148 | DOI : 10.1093/cvr/cvu036
Effect of thrombin on human amnion mesenchymal cells, mouse fetal membranes, and preterm birth
J Biol Chem . 2014 Mar 20 ; 289 13295 | DOI : 10.1074/jbc.M114.550541
IL-1β-induced matrix metalloproteinase-13 is activated by a disintegrin and metalloprotease-28-regulated proliferation of human osteoblast-like cells
Exp Cell Res . 2014 Mar 05 ; 323 165 | DOI : 10.1016/j.yexcr.2014.02.018
Fetal fibronectin signaling induces matrix metalloproteases and cyclooxygenase-2 (COX-2) in amnion cells and preterm birth in mice
J Biol Chem . 2012 Nov 26 ; 288 1953 | DOI : 10.1074/jbc.M112.424366
The PPARγ Agonist Rosiglitazone Is Antifibrotic for Scleroderma Lung Fibroblasts: Mechanisms of Action and Differential Racial Effects.
Pulm Med . 2011 Nov 01 ; 2012 545172 | DOI : 10.1155/2012/545172
Physiological loading of joints prevents cartilage degradation through CITED2
FASEB J . 2010 Sep 08 ; 25 182 | DOI : 10.1096/fj.10-164277
Epidermal growth factor-induced matrix metalloproteinase-1 expression is negatively regulated by p38 MAPK in human skin fibroblasts
J Dermatol Sci . 2011 Aug 04 ; 64 134 | DOI : 10.1016/j.jdermsci.2011.07.002
Adiponectin activation of AMPK disrupts leptin-mediated hepatic fibrosis via suppressors of cytokine signaling (SOCS-3)
J Cell Biochem . 2010 Aug 01 ; 110 1195 | DOI : 10.1002/jcb.22634
Collagenase expression and activity in the stromal cells from giant cell tumour of bone
Bone . 2009 Feb 12 ; 44 865 | DOI : 10.1016/j.bone.2009.01.393
Iron sensitizes keratinocytes and fibroblasts to UVA-mediated matrix metalloproteinase-1 through TNF-α and ERK activation
Exp Dermatol . 2011 Mar 01 ; 20 249 | DOI : 10.1111/j.1600-0625.2010.01152.x
Proteolytic activity in wound fluids and tissues derived from chronic venous leg ulcers
Wound Repair Regen. . 2009 Nov 01 ; 17 832 | DOI : 10.1111/j.1524-475X.2009.00547.x
Interstitial flow promotes vascular fibroblast, myofibroblast, and smooth muscle cell motility in 3-D collagen I via upregulation of MMP-1
Am J Physiol Heart Circ Physiol . 2009 May 22 ; 297 H1225 | DOI : 10.1152/ajpheart.00369.2009
Fluid shear stress regulates the invasive potential of glioma cells via modulation of migatory activity and matrix metalloproteinase expression
PLoS One . 2011 May 26 ; 6 e20348 | DOI : 10.1371/journal.pone.0020348