You are here:

Takyon™ Low ROX SYBR 2X MasterMix blue dTTP
Takyon™ Low ROX SYBR 2X MasterMix blue dTTP
Cat.Number :

UF-LSMT-B0701

Manufacturer Ref. :
Availability :
Shipping conditions :

Ice delivery fees must be applied
Takyon™ qPCR MasterMixes for SYBR® assays containing Low ROX passive reference are available in different formats from 1.5 ml to 10 x 7.5 ml. Takyon™ Kits deliver FAST, SENSITIVE and ACCURATE results on the following FAST & regular Cycling conditions.
On the Mx3000P®, Mx3005® and Mx4000®, both MasterMixes with and without ROX passive reference can be used depending on your needs. If you do not perform ROX normalisation on your results, we advise you to use the Takyon Kits for SYBR® Assay - No ROX which have been validated on these thermocyclers.
For carry-over prevention, combine any dTTP MasterMix with the new dUTP/UNG additive for 150 rxns: RT-UTPUNG-005, for 750 rxns: RT-UTPUNG-020
To convert any dTTP 2X Mastermix into a One-step RT-qPCR Kit, please use the Takyon™ One-step kit converter for 150 rxns: UF-RTAD-D0101, for 750 rxns: UF-RTAD-D0701

Avoid repeated freeze-thaw cycles.
Specifications
Packaging
Kits components

Sample and 150 reactions kit contain: One tube (1.5 mL) of 2X MasterMix (red cap - amber tube) containing Takyon™ DNA polymerase, MgCl2 (2.5mM final concentration), SYBR Green®, dNTPs, Rox Passive reference, Inert blue dye, Stabilizers. 1.5 mL of 50 mM MgCl2 (clear cap; optional use) 750 reactions kit contains each: One bottle (7.5 mL) of 2X MasterMix (red cap - amber vial) containing Takyon™ DNA polymerase, MgCl2 (2.5mM final concentration), SYBR Green®, dNTPs, Rox Passive reference, Inert blue dye, Stabilizers. 1.5 mL of 50 mM MgCl2 (clear cap; optional use)

Properties
Format
Color
Quantity & Purity
Concentration
Storage & stability
Form
Storage Conditions

For long term storage the Takyon™ Low Rox SYBR® MasterMix dTTP blue should be stored at a temperature between -15°C and -25°C in a constant temperature freezer. When stored under these conditions, the components are stable for 12 months. For short term storage the Takyon™ Low Rox SYBR® MasterMix dTTP blue can be stored at 4 °C for 6 months. Product must be stored in the dark.

Activity
qPCR compatible thermocyclers
Application
Template type
Volume activity
Detection Method
Usage
Codes
Code Nacres
You may also be interested in the following product(s)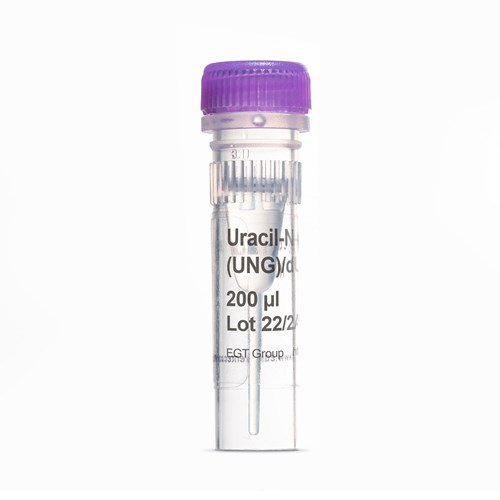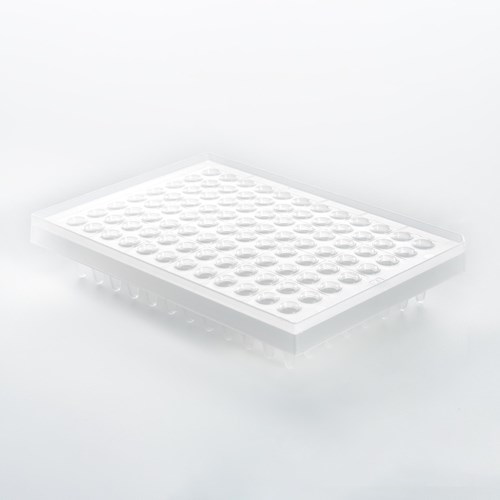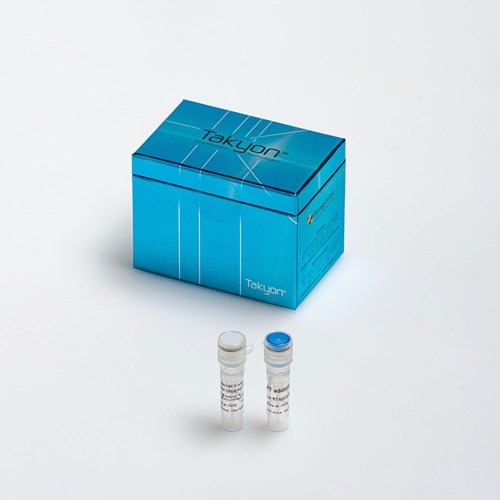 Citations
The rhizosphere microbiota of the zinc and cadmium hyperaccumulators Arabidopsis halleri and Noccaea caerulescens is highly convergent in Prayon (Belgium)
Research Square . 2021 Oct 19 ; (2021) 10.21203 1-18 | DOI : https://doi.org/10.21203/rs.3.rs-968648/v1
The Cell Wall Proteome of Craterostigma plantagineum Cell Cultures Habituated to Dichlobenil and Isoxaben
Cells . 2021 Sep 02 ; 2021, 10, 2295 1-20 | DOI : . https://doi.org/10.3390/cells10092295
Ecotoxicological risk assessment of wastewater irrigation on soil microorganisms: Fate and impact of wastewater-borne micropollutants in lettuce-soil system
ScienceDirect . 2021 Aug 11 ; 223 (2021) 112595 | DOI : https://doi.org/10.1016/j.ecoenv.2021.112595
The Effects of Salinity on the Anatomy and Gene Expression Patterns in Leaflets of Tomato cv. Micro-Tom
genes . 2021 Jul 29 ; 2021, 12, 1165 1-17 | DOI : https://doi.org/10.3390/ genes12081165
Migratory chondroprogenitors retain superior intrinsic chondrogenic potential for regenerative cartilage repair as compared to human fibronectin derived chondroprogenitors
scientific reports . 2021 Dec 08 ; (2021) 11:23685 | DOI : https://doi.org/10.1038/s41598-021-03082-5
PTEN regulates adipose progenitor cell growth, differentiation, and replicative aging
ScienceDirect . 2021 Jul 14 ; 297(2) 100968 | DOI : https://doi.org/10.1016/j.jbc.2021.100968
An in vitro analysis of the effect of hyperosmolarity on the chondrogenic potential of human articular cartilage derived chondroprogenitors
ScienceDirect . 2021 Jul 03 ; 101590 | DOI : https://doi.org/10.1016/j.tice.2021.101590
Roshni Parameswaran
et al
A Two-Stage Process for Differentiation of Wharton's Jelly-Derived Mesenchymal Stem Cells into Neuronal-like Cells
Stem Cells International . 2021 May 28 ; | DOI : https://doi.org/10.1155/2021/6631651
Nanoporous Quercetin-Loaded Silicon-Stabilized Hybrid Lipid Nanoparticles Alleviate Salt Stress in Tomato Plants
ACS Applied Nano Materials . 2023 Feb 28 ; 6 (2023) 3647-3660 | DOI : https://pubs.acs.org/doi/full/10.1021/acsanm.2c05384
Single-cell transcriptional analysis reveals naïve helper ILC-like cells in zebrafish
HAL . 2019 May 31 ; 2019 | DOI : https://www.biorxiv.org/content/10.1101/342477v1