You are here:

SensoLyte® MFP Protein Phosphatase Assay Kit Fl...
SensoLyte® MFP Protein Phosphatase Assay Kit Fluorimetric - 1 kit
Cat.Number :

AS-71104

Manufacturer Ref. :
Availability :
Shipping conditions :

Ice delivery fees must be applied
Protein phosphatases have received great attention as drug-screening targets. MFP is a proprietary fluorogenic substrate for most phosphatases, i.e., alkaline phosphatases, acid phosphatases, protein tyrosine phosphatases, and serine/threonine phosphatases. The phosphatase-induced hydrolysis of MFP yields an intense fluorescent product that has excitation wavelength around 470 nm, and maximum emission around 510 nm. This characteristic makes the substrate adaptable to all the fluorescence instruments. SensoLyte® MFP Protein Phosphatase Assay Kit uses MFP to quantify protein phosphatase activities. The kit can be used for characterizing kinetics of enzyme reaction and high throughput screening of protein phosphatase inhibitors. The kit contains: - MFP phosphatase substrate - Protein phosphatase inhibitor - Assay buffer - A 'mix and read' assay protocol that is compatible with HTS liquid handling instruments.
Specifications
Packaging
Kits components

Component A: MFP (1 vial), Ex/Em= 470 nm/510 nm upon phosphate group removal 1 mL Component B: Assay buffer: 60 mL Component C: 10X Lysis buffer: 50 mL : Component D: Triton X-100: 500 µL Component E: Stop solution: 30 mL Component F: 1 M DTT: 100 µl

Properties
Absorbance (nm)
Emission (nm)
Storage & stability
Storage Conditions

Store components A and F at -20°C. Component B, C, D, and E can be stored at room temperature for convenience.

Activity
Application
Biomarker Target
Detection Method
Detection Limit
Research Area
Sub-category Research Area
Usage
Codes
Code Nacres
You may also be interested in the following product(s)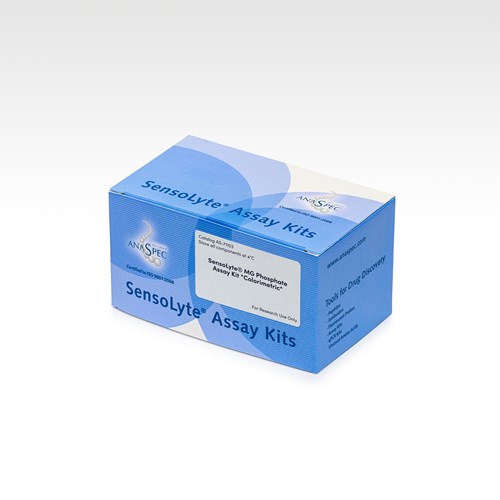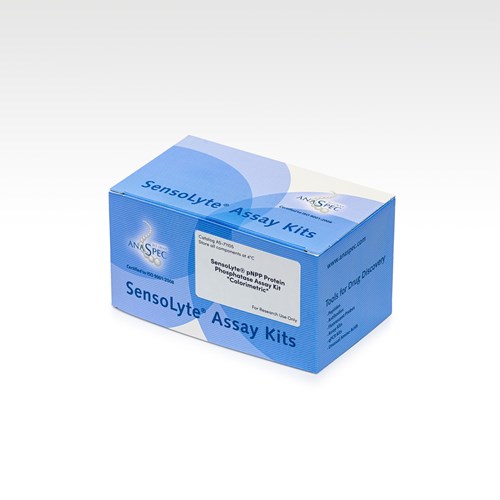 Citations
SIK1 is part of a cell sodium-sensing network that regulates active sodium transport through a calcium-dependent process
Proc Natl Acad Sci U S A . 2007 Oct 15 ; 104(43) 16922 | DOI : 10.1073/pnas.0706838104
Phospho-regulation of HsCdc14A by polo-like kinase 1 is essential for mitotic progression
JBC . 2020 Mar 19 ; 282 27414 | DOI : 10.1074/jbc.M703555200